This weekend was like any other weekend--started off strong with some heavy drinking on Thursday and peetered into nothingness by Sunday night. This is the way I like to live my life.
Saturday was my going away party (I leave for China in less than a week!) and like all parties I throw, there was minimal turnout, but it was OK. I had a pretty good time, even if it wasn't what I had planned for. And there's a fuck ton of PBR in my fridge still. E'rybody loves PBR, right? OK, there's also some Sam Adams and quite a few microbrews (a seasonal called "Twilight!!"), too. I suppose I'm digressing here, the beer content of my fridge really has nothing to do with fashion--except maybe for accounting for part of my need to wear plus-sized clothes!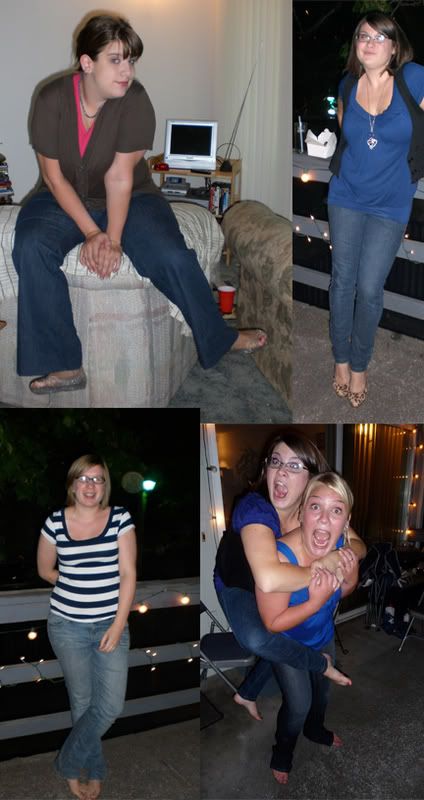 This is a combination of what I wore today and a couple of pictures of Kaitlin, Elaura and Heidi from the party on Saturday. The details on what I wore:
Cardigan,
Xhilaration
at
Target
; T-Shirt,
Old Navy
;
Pants
,
Torrid
; Shoes,
Xhilaration
at
Target
.
I'm comfortable, I love my old man cardigan, which has become crazy soft with the constant washing it's been going through. And I L-O-V-E these jellies, even if they are almost noisier than wearing a pair of heels. I just don't care.
Something you may not know is that I really do go to school (during the school year, at least) and am actually a double major. I may have mentioned advertising a few times on here, as it's my primary major, but I don't think I've said much about art. Well, my other major is art. I don't actually make much art and I haven't taken an art course in a few terms, but I'm an art major and I do have a specific style...I turn photographs into comic-like computer illustrations. I made quite a few this weekend, that's why I'm bringing it up. I thought I'd show you:
This is Heidi from an outing earlier this summer. All the leaves in this took me forever to draw and fill in, but I'm fond of it. Do you like?