I returned most of the stuff I bought at The Clothes Horse today. I went to bed thinking about it and decided that there was no point in keeping clothes around if I don't absolutely love them and I really shouldn't buy clothes with alterations in mind if I don't know how to do them and have no intention of paying a tailor to. So all I'm left with from that glorious trip is a pair of red heels, a watch with interchangeable colored bands and a $2 strand of fake pearls. I'm still pretty happy with it, though.
In other news, I recently lost my favorite sunglasses, a pair of oversized tortoiseshell Polo ones, to the LCC bathroom and given that Jesse still has my goddamn Ray Ban knockoffs, I'm sadly short on good sunglasses. In this most desperate of sunny weather. I want a pair of almost absurdly large Jackie O./Florida Grandma glasses. Ala dVb.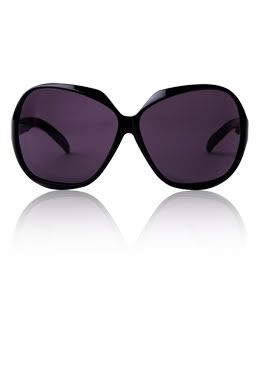 Unfortunately, I've been slowly warming up to Victoria Beckham, who I formerly considered an ice-queen-robot. I even bought her book last night.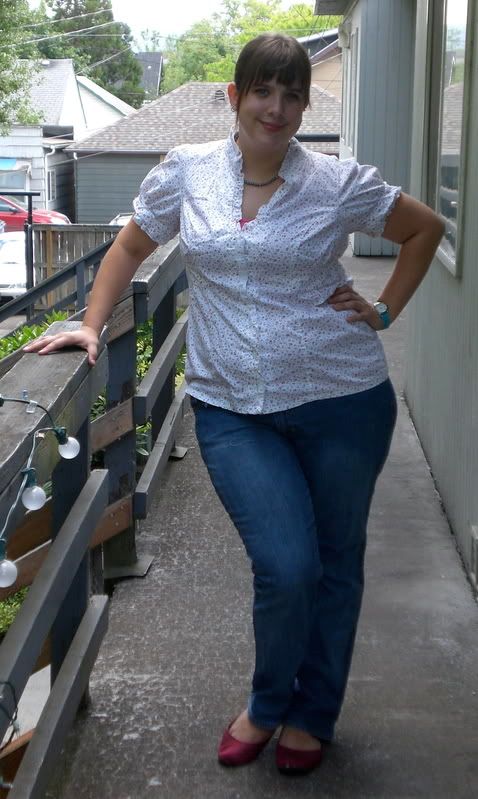 Shirt:
Torrid
Jeans:
Bitten Sarah Jessica Parker
for
Steve and Barry's
Shoes:
Old Navy
I was the first of the roommates to get up today! Astonishing. This meant I made the ritual pot of coffee (and we are now out of coffee, which is unfortunate) and checked the mail. Then I sat out on the porch and checked my email and blogs without feeling like I was ignoring anyone. Around 2, I got dressed to make the previously mentioned returns. I felt feminine yet conservative today, which I thought wasn't going to be possible as I rummaged through my dresser. It was too cool for a dress but not warm enough to warrant leggings. So I grabbed these jeans, which I love and was trying in vain to find a feminine top that wasn't a tank top. I was about to give up when from the very bottom of a drawer appeared this ruffled beauty. Yes, I was overly happy about a button down blouse. I don't care. The outfit felt perfect to me. That's a rare but happy occurrence for any woman, I'm pretty sure.
So, on to the less pleasant part of this post. Fringe. I'm going to say that when the word "fringe" appears on screen or is uttered by someone in conversation, my mind immediately turns to a pair of cowboy boots I owned as a child. They were white with a sparkly pink inset design and featured a godawful line of fringe running down the side of each boot. They were undeniably my favorite shoes in second grade. Now they symbolize everything that I see as wrong with the fringe trend for fall. Did I live on the plains or ride horses as a child? No, I attended a very poor inner-city elementary school. Was I a country-western star? No, and my favorite band was Milli-Vanilli. There was no reason for me to look at all Western. And there is no reason for fringe to be rearing it's ugly head now. Unless there's something I'm not seeing, there are no cattle to be rustled or Native Americans to oppress on the runways, so I don't understand why this Western thing is back.
Now that that's been said, I poked around quite a bit a few days ago and found that while bloggers are talking about fringe, it's relatively sparse on the runways. There are a couple items at the usual trend-hawking retail stores (which is not to say that I'm hating on trend-hawkers, god knows I love me some Forever 21) but the Western-style fringe is not, in fact, going to take over and make all trend-slaving women even more ridiculous than they already are. Phew.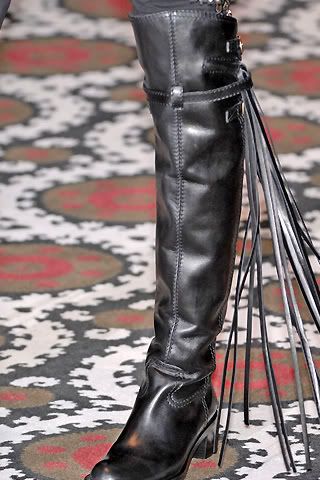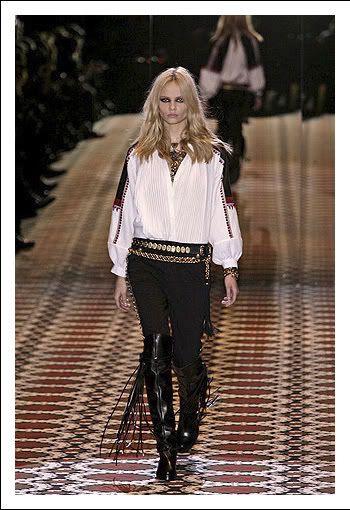 Gucci, unfortunately, is a culprit in the "bad fringe" epidemic.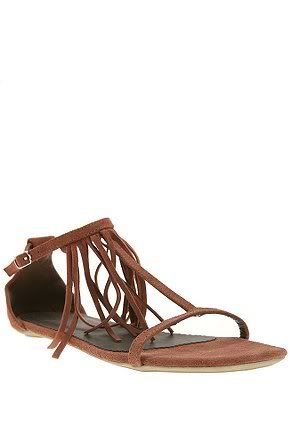 As is Urban Outfitters.

And Comme Des Garcons. You will note that this isn't a western fringe. It's a more romantic, almost lace-y fringe. I'm more likely to get behind this style, but you know, this "are her ta-tas covered? Why is that jumpsuit so ill-fitting and impractical?" look is just not hot. However, all is not lost.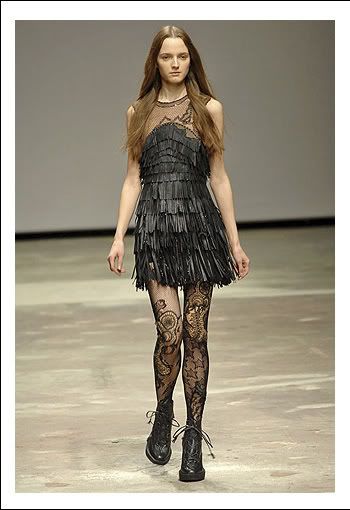 Emma Cook styled her fringe into a flapper throwback that I find charming. Also, you should note the lace tights the model is sporting. I'm very excited about lace for the fall. It's so quintessentially girly, I can't wait to get a pair of lace tights! Maybe even a romantic top with a lace neckline. Who knows? This is one trend I'm totally on board with, though.