So, I know I showed a dress by
Emma Cook
on here before, in the context of fringe possibly not being the death of us all. I was wrong about that, I still hate fringe with the force of a thousand suns. However, I was dinking around on
Elle's Fall Ready-To-Wear slideshows
and saw Emma Cook's entire fall line. While it wasn't like looking at Elie Saab's work and being floored by the grace and creativity of it, I was impressed. A lot of lines claim to be "ready to wear" but in fact, need to be scaled back to be applicable in most people's lives. Emma Cook's dresses look like they could walk straight off the runway and into my life. I definitely appreciate that in a collection. Without further ado, my faves from her fall show:
(Caveat: I do not endorse the wearing of these hats.)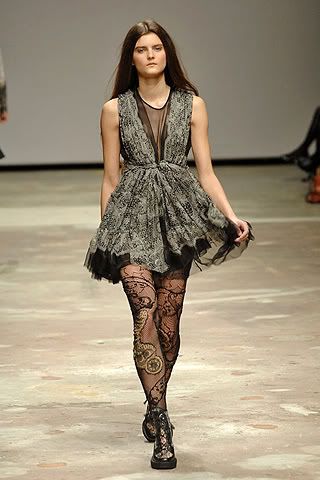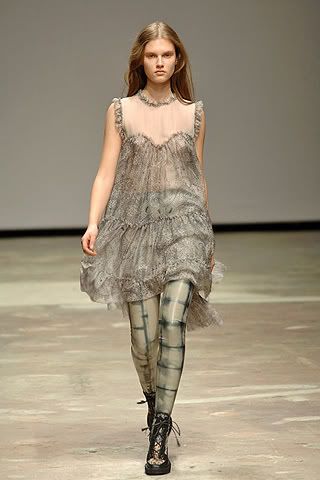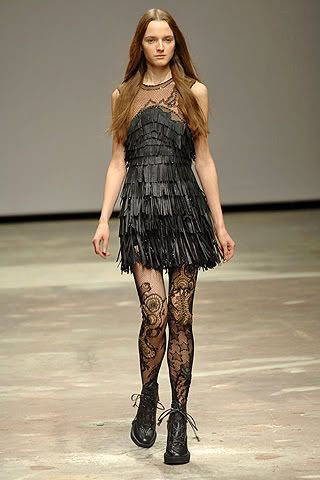 (This is the dress in which I found hope for fringe only to have it dashed by such stores as Urban Outfitters and Topshop.)
Get the look for less: It's all about lace up boots, unstructured dresses and slightly military jackets to offset the lack of structure elsewhere. And
lace tights
. Lace tights until your eyes bleed. Which they will not, because there's nothing bad that could possibly be said about lace tights. My favorite of all tights.