Yesterday, Amy asked me to buy her a bottle of everclear. Being fairly new at this whole 21 thing, I jumped at the opportunity to contribute to the delinquency of minors. Neither Kaitlin, Heidi nor I had ever bought everclear before and didn't know that it's kept behind the counter for some reason. So we wandered around the liquor store for a good 15 minutes before asking where the hell to find it at. In the process, we found fake absinthe, a knockoff brand of Jager and numerous liqueurs we'd never heard f before. Amy invited us to the party she was throwing and so around 10 I started getting ready (didn't want to show up too early, obviously) and it took me like 20 minutes to find the right pair of jeans for my outfit.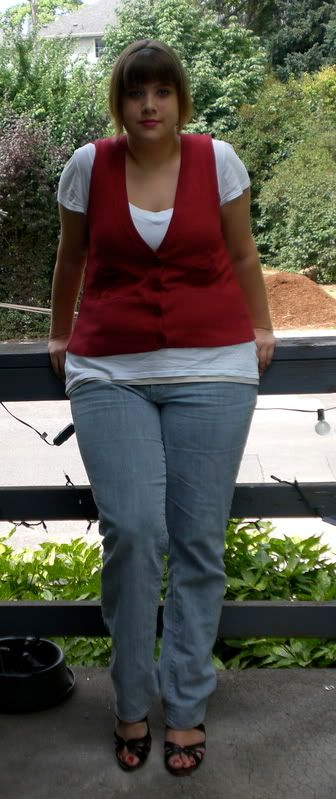 T Shirt:
Old Navy
Vest
:
Torrid
Jeans:
Bitten Sarah Jessica Parker
for
Steve and Barry's
Shoes:
Charlotte Russe
The outfit felt a little Kate Moss-y to me, which is pretty cool. Looking at the photos, I realize it wasn't, really, but how can you feel anything but hot when you think you're dressed like Kate Moss?
The party was not what I had anticipated--which is to say that it was us, Amy and 2 of her friends sitting in her back yard talking. It was a good time, to be sure, but I spent 20 minutes looking for the right pair of pants to show off these shoes! Not to worry, I'm not going to let this outfit go to waste. You'll be seeing it again.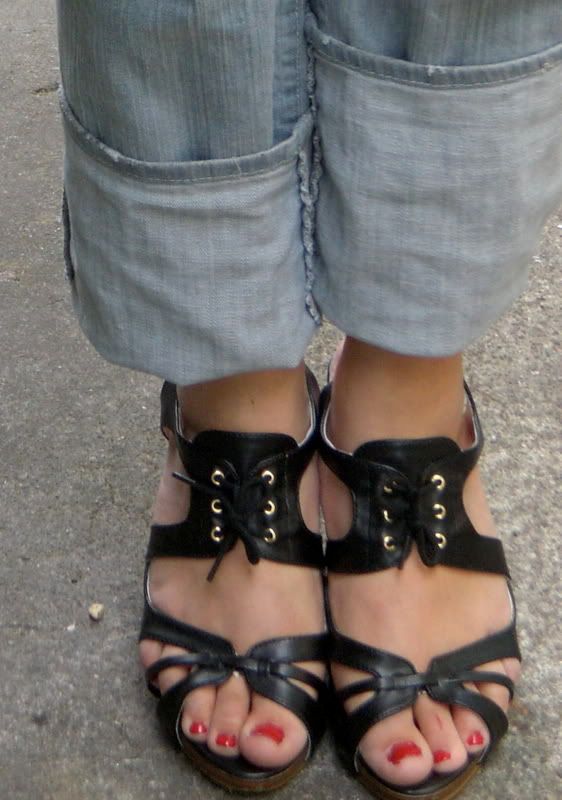 I mean, fuck! I'm pretty sure these shoes are the hottness!
Today, the weather can't decide if it wants to be sunny and warm or breezy and cool, so I'm layered, ready for anything!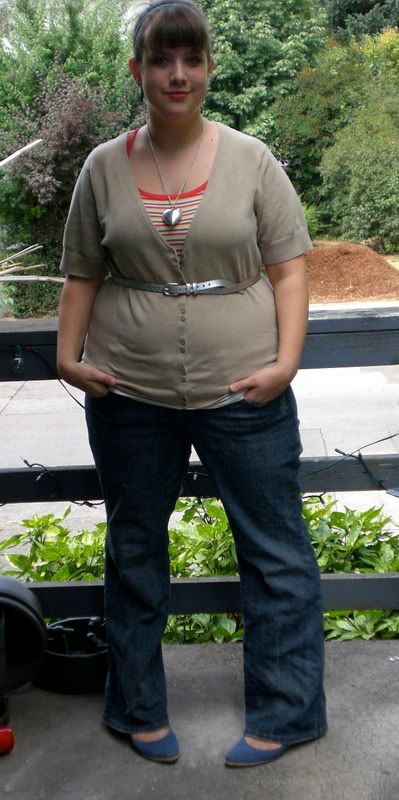 Shirt:
Forever 21
Cardigan:
Old Navy
Pants
:
Z. Cavaricci
at
Torrid
Shoes:
Merona
at
Target
Belt:
Old Navy
Necklace:
Target
I've taken to writing my entries in HTML mode since getting my Mac, I'm not really sure why. But building the links makes the page look so cluttered! Is this a weird complaint? I suppose it is. Oh well. I should probably go grab something to eat before I go to "work."