Unfortunately, you're not going to be getting photos from last night's party because there aren't any to be shown. Sad story. I'd been charging my camera's battery last night and accidentally put it back in backwards. When it came time to leave for the bars, Heidi and Kaitlin tried to use it, but it wouldn't turn on and I was too drunk to realize that the battery wasn't dead like they thought, but just put in the wrong way. Oh well. I wasn't wearing anything exciting--that red dress I wore last Sunday and some black flats. We all looked pretty good, though.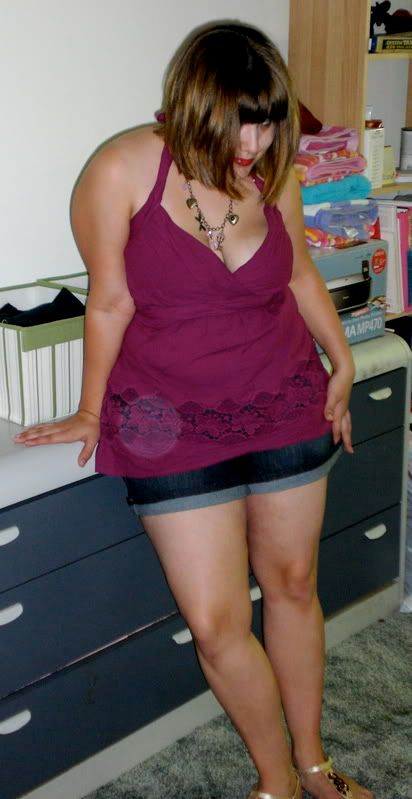 Shirt,
Shorts
:
Torrid
Shoes:
Gap
Necklace:
Target
This top is really quite breasty...I need to make some alterations on it. It's still hot, though I'm sitting on my porch and the breeze is making me almost wish I'd worn a t-shirt rather than a tank top. Oh well.
Red lips inspired by miss Kenley of Project Runway, season 5.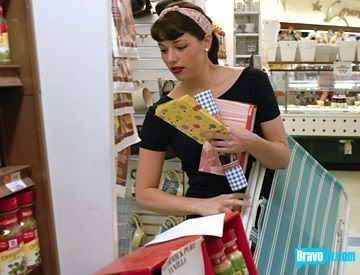 Speaking of Project Runway, I was at Megan's watching it today (And VH1's from G's to Gents and it is fucking hilarious!!) and the most amazing dress came out of this week's challenge.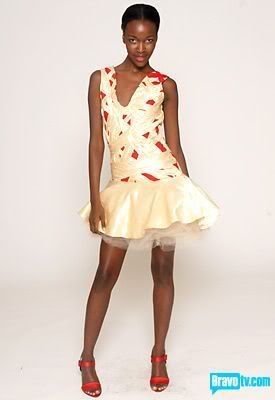 Obviously this isn't some kind of secret TV gem that none of you have seen before, but I still wanted to put it out there that I think this dress is genius. It's a little bit 80s, but in just the right kind of way. It's (going to be?) sold on bluefly.com, so I will be looking for that....
While I was on bluefly, I took a look at Christian Siriano's line for them and...it's only 3 items? I must be mistaken on that, the rest of the collection must have sold out because there are only 3 pieces from Christian, but there are 5 pages of clothes by Sweet Pea. That's at 72 items per page. I would assume that winning project runway and getting your own line with them would merit more than being a mediocre designer and an overreacter, but who knows.
It's off to cooking and cleaning with me! Tootles!