So today would be the day when I tell you about and post a collage of everything I did this weekend, but honestly...what I did during the day was boring and what I did at night was top secret. SO I'll give you a recipe I used recently with delicious results!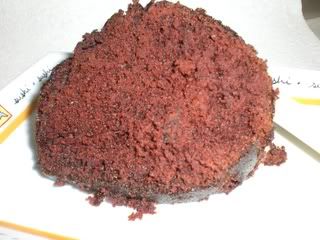 Devil's Food Cake:
(From Better Homes and Gardens' NEW Cook Book)
3 Eggs
2 1/4 cups all-purpose flour
1/2 cup unsweetened cocoa powder
1 1/2 teaspoons baking soda
1/4 teaspoon salt
1/2 cup butter
1 3/4 cups sugar
1 teaspoon vanilla
1 1/2 cups cold water
1. Allow eggs to stand at room temperature for 30 minutes. Meanwhile, grease a fluted cake pan and lightly flour it. Preheat oven to 350 degrees. In a medium bowl, stir together the flour, cocoa powder, baking soda and salt.
2. In a large mixing bowl, beat the butter on high for 30 seconds. Add sugar and vanilla, beat until well combined. Add eggs one at a time, beating until thoroughly combined after each. Alternately add flour mixture and water do the butter mixture, beating on low after each addition until combined.
3. Bake at 350 degrees for 50-55 minutes. A toothpick (or butter knife) should come out clean when inserted.
4. Enjoy your delicious, moist cake.