Alright, so due to moving, school starting and the untimely loss of my camera cord, I've been M.I.A. from the blogging world for a couple of months. But, I'm back! I recently discovered that my printer has an SD card reader and am also trying to be more organized with my school work so I'll have time to play. Ha.
I have a back log of runway shows I want to share with you, so please bear with me as I re-hash
F/W 2008
styles until January. I know that everybody's already done with SS 2009, so what the hell am I doing a season and a half late? I don't rightly know, but this is what I have and this is what's still inspiring to me. I do what I want!
This week, I'm going to show you Iceberg's RTW F/W 2008 line. I'm not 100% certain what I was thinking when I put this down in my "to review" list, but I do know what I'm thinking now: I want to watch Iceberg more. It's so...weird. There are so many cool designs in it, like this exposed zipper coat: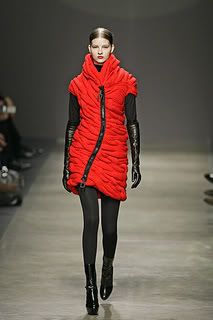 But then there are some things that are just
atrocious
.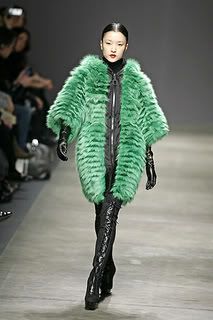 I mean, really? Green faux fur? I almost threw up when I saw that.
The rest of the collection runs the full gamut of awful-to-inspiring. However, I'm very fond of their simple dresses and this fabulous coat!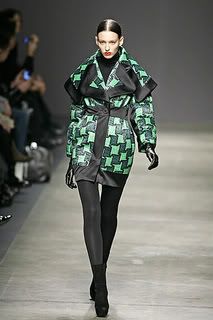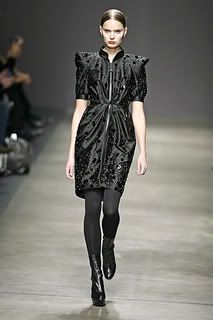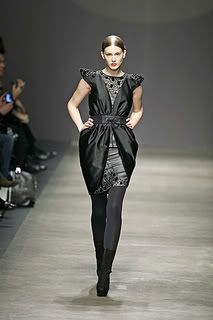 Photos courtesy of
Elle.com
Now, to create a similar look, try this:
Iceberg FW '08
by
synapse2synapse
First, try a jacket with a good amount of architectural detail. Layer it over a black-and-white dress, top with a waist-cinching belt. Finish it all off with black opaque tights and boots!
For the key look (based off my favorite, the green jacket), find another jacket with a lot of visual interest. Don't let your other clothes compete with it, just wear skinny black jeans and fierce boots!
The last outfit is based around the dress. Find one that's loosely draped, then pair it with black leggings or tights and of course the signature boots!
The monochromatic palette I put together isn't entirely representative of the whole collection, but I feel it really captures the essence. Black and white allows the architectural and volumetric details Iceberg worked with to really shine through. Take it all with a grain of salt, I suppose!