Here we are, on a lovely Saturday afternoon and I don't have anything new to tell you. I just wanted to express my deep undying love for the farmer chic.
Farmer chic? You heard it here. Button-down plaid shirts+jeans=farmer chic. In my book, anyway. A few weeks ago, I picked up two plaid button downs at Gap, thinking they were comfy and would be a nice addition to the wardrobe. I was so right. Unfortunately, I've been wearing them constantly ever since! Somewhat embarrassing, right? Yes. Oh well.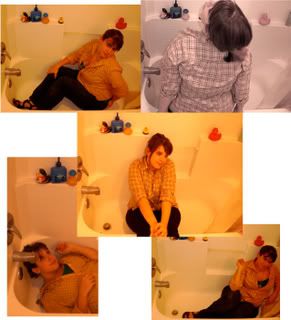 Shirts,
Gap
; pants and camis,
Torrid
; accessories,
Forever 21
; shoes,
Charlotte Russe
.
For you, I have a few suggestions:
plaid
by
synapse2synapse
A lot of these items are from Forever 21. Those that aren't are: The shoes, which are Wet Seal; the pink coat, which is Dorothy Perkins; the blue button down, which is from Lou Lou; and the black and white dress, but I'm not really sure where that's from since the website is in a language I can't read!
You will note an absence of plaid pants. I love plaid a lot, but I will tell you that plaid pants have a tendency to look incredibly tacky. Just a thought.